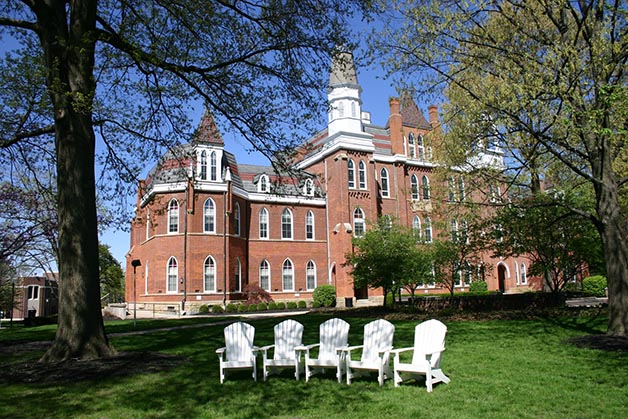 Prism Campus Ministry (Formerly Crossroads Campus Ministry)
Location: Towers Room 318 (on Otterbein Universities Campus)
Time: 6:00-7:00 p.m.
Day: Wednesday
(For more information on meeting dates and times, contact Lucy Kelly at .

Crossroads is a faith community affiliate with Church of the Master United Methodist Church specifically for college students. Crossroads is an official student organization at Otterbein University.
Our mission is simple. Love God. Grow in Christ. Live to Serve.

We are an inclusive community striving to be the hands and feet of Christ. And although many of us come from different backgrounds, cities and towns, here in this place, we are one.
Our Statement of Faith:
We believe in one God, the creator almighty, the maker of the heavens and the earth, of all people, and all living things. We believe in the profound teachings of Jesus Christ, to love God and to love one another. We believe in God's grace and gift of eternal life through the death and resurrection of Jesus, God's son. We believe in the Holy Spirit, who with the creator and the son is adored and glorified and works within each living thing, unites all races, lives in all nations and speaks all languages. We believe in one universal Church, where we carry on the teaching that we are one people, distinct and alike at the same time, male or female, gay or straight, cis or trans, abled or disabled, no matter who we are, where we were born, or what race we are. We believe in the saying "You Be You." We are all interconnected, loved by God, and held in God's grace forever. Amen.

What can I expect?
We are a welcoming community where everyone feels a sense of belonging and purpose. We gather on Monday evenings for weekly worship. Our service is casual. Come as you are, not what the world thinks you should be. We celebrate differences. ANYONE is welcome to come and worship.

You are Welcome!
You are Accepted!
You are Loved!
Common Grounds!
Common Grounds is a space in the church that is specifically is set aside for our college students. Come for small groups, Bible Study, or to just hand out. Studies and small groups will meet at various times throughout the week. Our first small group study of the year will be The Gospel According to Harry Potter- The Spiritual Journey of the World's Greatest Seeker
Sunday Morning Fellowship
Location: Common Grounds
Time: 9:30am – 10:30am
Join us Sunday Mornings in Common Grounds for a Sunday School Class specifically for our college students. We will be discussing how current events in our world connect with our faith.
Monday Morning Coffee Ministry
Time: Mondays, 7:40am – 9:30am

Each Monday morning when students are on campus at Otterbein University, Church of the Master's Coffee Ministry is out front of the church serving free DONUTS, coffee, tea, and hot cocoa to make Monday mornings a little easier to handle! We will also have special hours during semester finals! #Coffee #Caffeinated
Free Dinner for Otterbein Students!
Spaghetti Dinners
One of our favorite events of the year for Otterbein students is our Spaghetti Dinners! Mark your calendars for Tuesday, October 22, 2019, and Tuesday, February 18, 2020. We serve the best spaghetti and meatballs in town. Dinner is served between 5:00 p.m. – 7:30 p.m.!

Midnight Pancake Breakfast!
When the end of the semester is at hand, Church of the Master opens our doors for Midnight Pancakes! We provide nourishment and fellowship for all students. We serve three kinds of pancakes (buttermilk, blueberry, and chocolate chip!) from 11:00pm – 1:00am. Mark your calendars for Friday, December 6, 2019 and Friday, April 24, 2020!
If you would like more information on any of our campus ministry services, or would like to speak to our Campus Ministry Intern, please contact Lucy Kelly at .